I've been reading loads of year-end reviews and top albums reviews and have seen a consistent few that appear on every single one. These are your
Neon Bibles
, your
In Rainbows
, and now and then your occasional
Person Pitch
and
Kalas
, which I'm all for. But I've got to give the top honors to a certain couple of albums which may not have made such a huge impact on the indie scene as anything, but made my time a lot more fun, and well, maybe they're really not the best albums of the year. This could officially be called the most-fun-albums-of-2007-for-layhee post.
8. Best Fwends-
Alphabetically Arranged
Awarded Worst Album of the Month (for August I think) by Vice Magazine, Best Fwends'
Alphabetically Arranged
was a common and constant anthem heard around the newly-defunct shardhouse. Following their EP release in February 2005, this album featured an astronomical 34 tracks, allowed by the 2-minute average of the lengthier tracks. The sporadic and sentimentality-shift towards the vastly diverse influences heard on this album make it one of our favorites and number 7 on this far-cry from a legitimate readerworthy heap of a blog. Buy it from
Moshi Moshi
if you didn't get a chance to this year.
7. Health-
HEALTH
LA. LA was a good place for music this year, making me realize that I was still into music from LA even if the last punk album I bought was in the 8th grade. This thing was recorded within the confines of The Smell and sounds pretty great. With the danceability of the CC remix of Crimewave and other such collabs and covers, not only was this release granted coolness points over most others, but also prompted the unwarranted, immediate, and simultaneous purchase of HEALTH shirts by aaron and i. Not wearing one of those shirts on the same day has proven to be easier than expected though. BuyBuy buy this at
LovePump United
now!!!
6. White Denim-
Let's Talk About It EP
This came to me late in the year. I don't even know when it was released, and I'm not really excited about checking that right now, but when Let's talk about it (availible for listening
here
) hit my earholes last month, it was basically worth wearing those ridiculous earbuds that came with my phone in order to hear it in the most unconventional places (bathroom stall).
5. The Hood Internet-
Mixtape Volume 1
Mashups, remixes, and the overall generalization of "computer music" was enhanced this year by the Hood Internet's perfect pitch of laying raps and rhymes over those damn catchy and untiring beats of the likes of some dope bands: Deerhoof, Hot Chip, CSS, Fujiya and Miyagi and shittons more. Whether or not people want to call this a legitimate album release is irrelevent, it's still damn good and tha best bump'n'grind music... if you're into that. I'm personally not a big fan of Hip-Hop, I don't enjoy it, and I don't think I would listen to anything you would call rap for any other reason you would listen to music. I do, however like the fluency of the words, the stylized enunciation and the occasional ridiculous praise to boobs, alcohol, or cappin' niggas. The Hood Internet sugar-coats the otherwise unnappealing poecism of these songs and sets them to more of my taste of musack. Thank you Hood Internet for familiarizing me with Lil Mama and Dizzee Rascal. Download the entire thing
here
. Yes! it's free!
4. Chromatics-
Night Drive
Somber at times, always a good sound to fall asleep to, I found. Night Drive gave me an eerie, self-aware feeling, paranoiacal and almost tragic especially "Tomorrow is So Far Away". Just an overall solid listening-to and perfectly fitting title, for it is indeed what I would've listened to had I been driving at night for any portion of the fall of '07. Plus they cover Kate Bush.
Listen
.
3. Je Suis France-
Afrikan Majik
First heard these guys with their second full-length which was released in 2003 on Athens-based
Orange Twin
(Elf Power's record label/land conservation project). Anyway, Afrikan Majik is indisputably majikal, with tracks such as "Sufficiently Breakfast", a sixteen-minute introductory to a release I had previously overlooked but had to come back and add to my albums list.
Listen
to "Whalebone", and watch the video for "
That Don't Work That Well For Us
", as ridiculous as it may be.
2. Deerhunter-
Cryptograms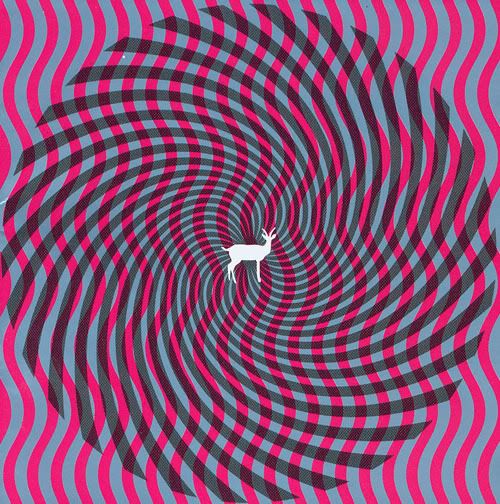 Out early this year in January, it didn't come to me until around April when a certain Von Doesn'tleavehiscardoorlocked allowed me the pleasure of hearing such grandiose noise. This album later came to be one of my automatic favorites and recently came to mind when trying to decide what my favorite albums this year were.
1. Of Montreal-
Hissing Fauna, Are You the Destroyer?
It's just so faggy, only it
does
have soul power.
That's all.
-----
Honorable mentions: